Best in Class Production DAM
DALIM ES: Setting the Bar DAM High!
How many times do you find yourself spending too much time looking for some content? For example, if someone asked you for the ad with the image of the giraffe and the address of your New Zealand office, would you know where to look?
It's easy with a DAM.
Keep all your content in one, manageable place
Because every piece of content we create has value, it's crucial to safely keep and track everything we use and own. People need to know what content is available to them. But, there is a lot of work to do before implementing a sophisticated DAM, such as the one within DALIM ES.
The steps to begin the process of building a DAM are numerous, and a DALIM SOFTWARE expert can make it much easier for you to plan and manage. However, there are some things you can start thinking about.
First, you may want to take an inventory of where your content is and begin collecting it. Odds are, you're going to find relevant files almost everywhere. Almost immediately, you will want to decide where you need to store all your content. Is it in-house within your IT system, or do you prefer to safely store it in the cloud (for example, using AWS)? What kind of metadata do you want to track and save? There are multiple options, including project history, rights, cost, version, approvals—among many more.
You will have to think about who will have access to content and whether content access could be limited to specific or different groups? Are you going to build into the database API links to other creative applications? How about your MIS/ERP?
It can be very time-consuming to categorize every single asset. ES can do this automatically. Taking advantage of the powerful workflow within ES, the system can automatically enrich file metadata during input, such as, technical information, content description, rights of use, and use history. It can also collect content into meaningful collections, efficiently managing complex content creation and production projects. You can instantly find just the content you need with multifaceted search tools to quickly access metadata and tags quickly, even utilizing IA-based similarity search and content recognition (based on deep learning).
A system for everything
The DALIM ES Digital Asset Management (DAM) system centralizes and allows anyone to see all sorts of media files—images, graphics, layouts, PDF files, Excel and Word documents, web pages, video clips, social media posts, audio files, and more. It is truly a single source of trust of rich media files for efficient collaboration and content production.
You probably want to work with the most recent and correct version of your content. It's why ES has extensive version control, with file histories and records of approvals. You can even return to an earlier version to trace essential changes. With ES, anyone in the world can open and preview any media file. That includes color accurate images at the highest resolution—even pixel-level.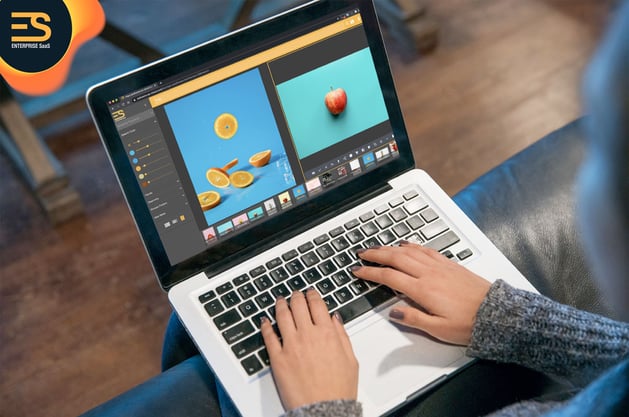 Take action on your content
A system is of no use, unless you can really do something with your content. That's why DALIM ES provides world-class print production—like preflighting—and color management tools, workflow automation, and easy integration to content creation. ES can seamlessly connect to Adobe Creative Suite, image banks, and other creative tools or content. And ES offers automated workflows to collaboratively process assets and publish content.
Your DAM should scale as quickly as you do. ES can be stored locally or share along with multiple sites and storage systems via the cloud to be as cost-effective and productive as possible. This assures that you and your partners easily work with consistent branding and messaging without any slowdown from restricted physical storage locations. Security and user rights will ensure that only those with permission can access your assets.
ES is easy to use, customizable to your own user experience, so that anyone can use it without extensive training.
Manage your DAM easily
Finally, to make sure you can manage DALIM ES to be as productive as possible, system managers can monitor performance through key performance indicators (KPIs)—state-of-the-art project management tools including Gantt, Kanban, and milestones. So, those who are managing the DAM can understand how and where the assets are being used.
You have to make sure your digital assets are cared for wisely. ES makes sure they are.