DALIM ES at the heart of Reworld Media
The following interview was conducted in April 2017 together with Mondadori France. Since then, Mondadori France was acquired by Reworld Media in July 2019. The acquisition of Mondadori France marked a significant milestone by combining the best of two worlds: a strong and recognized press paired with editorial expertise in digital media, which allows them to access new media ecosystems.
Today Reworld Media is the French leader in thematic media with over 48 media brands, including Grazia, Pleine Vie, Auto Plus, Closer, and Télé Star, is increasingly using DALIM ES for producing its magazines. Jean-Philippe Mas, Editorial IT Project Manager in the ISD (Information Systems Division), Sylvain Boularand, Prepress Service Manager in the IOD (Industrial Operations Division), and Christophe Guérin, his deputy, talk about the integration process.
Interview conducted in April 2017
J-P.M: We started to internalize the photoengraving of our magazines several years ago, either into the internal prepress department when there was a need for expertise (cropping, photo retouching, etc.) or directly into the editorial office's thanks to automatic tools for image processing, PDF generation and automating tasks without added value.
S.B: We have three operating modes for photo engraving with the editorial offices:
Titles processed 100% externally, whereby the photoengravers provide us with their digital thumbnails,

Sharing the titles between external photoengraver and internal processing. The subcontractor will take care of the "hot" sections with a late deadline for schedule flexibility reasons,

Titles managed 100% internally, including advertising pages.
J-P.M: In this context, it was essential to set up a thumbnail tool for two reasons in particular:
To provide production monitoring for the prepress department with statistical and analytical tools to optimize the scaling up of this department with a view to increasing the number of titles processed.

The external service providers offered the editors their own digital thumbnail tools for validation requests and corrections. In moving these titles in-house, we had to provide the editors with the same level of service quality.
How did you come to choose this tool?
J-P.M: ES, from DALIM SOFTWARE, quickly emerged as the most robust on the market, used as a reference by our external photoengravers. After reviewing the competition, the choice was made quite naturally, the ISD and the IOD quickly agreed.
How did the integration of ES go?
S.B: At Reworld Media, we observe quite strict computer protocols, within which the integration of ES ran smoothly.
We are deploying it gradually. We know we could do many more things, but we like to concentrate on the heart of the matter.
J-P.M: Our deployment phase is rolling out title by title. We follow strict acceptance procedures that guarantee the stability of our production environment. DALIM SOFTWARE has provided us with a technical procedure that allows us to reproduce the test installation identically in production. A dummy run of a pilot title, Sciences & Vie Découvertes, was conducted by the internal prepress. After checking its quality, we presented it to the editors and asked them to use ES for the next issue. The operation was a great success, and training was fast because the tool is intuitive.
C.G: With Sciences & Vie Découvertes, which is 84 pages, the editors did have some reservations, but they disappeared quite quickly. We now have about ten titles: Sciences & Vie Junior, SVJ hors-série, SV, L'Auto-Journal, le Chasseur Français, Nous Deux, la Revue nationale de la chasse, Grand Gibier, La Veillée des Chaumières, amongst others.
J-P.M: The easiest thing for us was to move to ES the titles that are already processed 100% internally. When all the internal titles have been deployed, the mixed titles, temporarily assembled at the external photoengraver's, will each, in turn, be switched to Reworld Media's ES. Centralization allows Reworld Media to minimize the impact of any potential change in photogravure provider.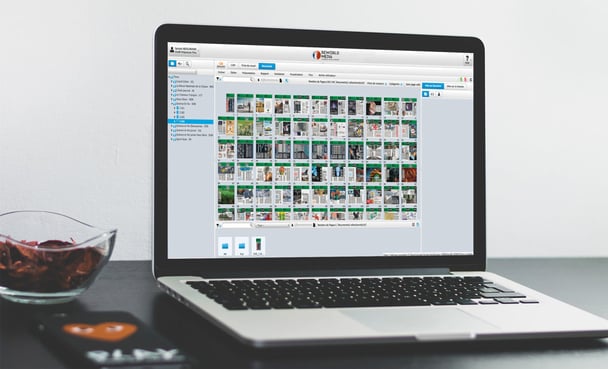 What advantages do you get from ES in everyday work?
C.G: With this tool, you really know where you are with things at any given moment. It is excellent from an organizational perspective; you have a clearer picture of how the magazine is progressing, which previously was very fragmented. We also found it difficult to find the right partners, but installing ES meant we had to go and look for them. The solution from DALIM SOFTWARE brings together all the departments involved: promotion, advertising, subscriptions, etc. Today, the more titles we deploy, the more time we gain in their management. Further time is saved because the PDF is automatically transferred to the printer, whereas previously, we had to send it manually by FTP. Multiplied by twenty titles, you soon see the point! Another advantage is the traceability: which pages often come back to validation? Why? This allows us to pinpoint what may be improved within photogravure to increase productivity.
S.B: The advantage of the ES system, besides its simplicity and the abandonment of paper thumbnails, lies in being masters of our production in the short-term by internalizing the thumbnails into all editorial offices, including those that are external. The external photoengravers will feed into Reworld Media's ES by putting their documents on our server. We will gain flexibility without losing sight of the precise progress of production.
Are you exploring other possibilities with DALIM SOFTWARE?
J-P.M: Alongside internalization into ES, we are currently deploying a plurimedia editorial tool. We have worked with DALIM SOFTWARE on drafting specifications for interconnection between the editorial tool and the prepress tool. How do these tools need to communicate with each other? What are the triggers in the editorial tool for exporting certain information to ES, and in what format will that be done? We are currently defining the information circuits, then the bridges, so that eventually we will have one overall solution rather than two separate tools. Via its API, the ES solution will then be fully integrated into our editorial production flow.