What Is Carbon Accounting?

The Comprehensive Guide
In 2019, Europe alone produced approximately 3000 metric tons of carbon dioxide. Although this figure has dropped by 22% since 1990, it's still impacting our environment considerably. Because of the severe impact greenhouse gases have had on global warming since 2017, the European Union obliges big companies to report their greenhouse gas emissions (GHG) each year.
Carbon accounting is one of the reports used to collect, showcase, and evaluate greenhouse gas emissions. Even though only big companies are touched by it, every business will eventually face the same challenge in the coming years without question. With this in mind, all companies should implement this accounting process to identify more sustainable operational methods and minimize their effect on our environment.
Below, we cover everything you need to know about the subject, from what carbon accounting is to the significant benefits but also inconveniences this tactic offers to understand one's footprint.
What is carbon accounting?
Carbon accounting (or greenhouse gas accounting) refers to the processes employed to identify how much carbon dioxide equivalents an organization emits. It's a report aimed to provide businesses with the factual ground to make accurate carbon-related decisions throughout their daily procedures to decrease the rate of global warming.
The report covers a comprehensive range of practices to calculate and showcase how much carbon an organization emits. Typically, it's split into two different categories, such as:
Physical carbon accounting – measures both direct and indirect carbon emissions that a company produces through industrial activities (otherwise referred to as greenhouse gas inventory)
Financial carbon accounting – aims to give a physical, financial market value against the carbon produced and absorbed.
Organizations can receive a more thorough and detailed report about their carbon emissions by overseeing carbon accounting in these categories.
How is the carbon footprint calculation structured?
When businesses implement carbon accounting, they'll calculate their carbon footprints from a three "scope" framework. Each has its unique data, and all are extremely important to perform carbon accounting accurately. Here's what you need to know:
Scope 1 – Within the first scope of emissions, they'll measure direct greenhouse releases that occur from sources that are controlled (or owned) by the organization themselves. These typically include anything that undergoes the chemical process of fuel combustion, such as boilers, vehicles, and furnaces, etc. Including this, it'll also include fugitive emissions that could leak from fire suppression, industrial gasses, or air conditioning.
Scope 2 – Within this scope, indirect emissions will be measured associated with purchasing either cooling, heat, steam, or electricity. Although scope 2 emissions usually occur at the facility wherever they're created, they should be accounted for in the business's GHG inventory due to its energy use.
Scope 3 – Compared to the other scope emissions, this is undoubtedly the most complicated. These are emissions that aren't controlled or owned by the organization reporting their GHG emissions, but still indirectly impact the companys value chain. Visualizing this further will include carbon expenses such as employees traveling to work, goods or services purchased, waste disposal transportation, etc.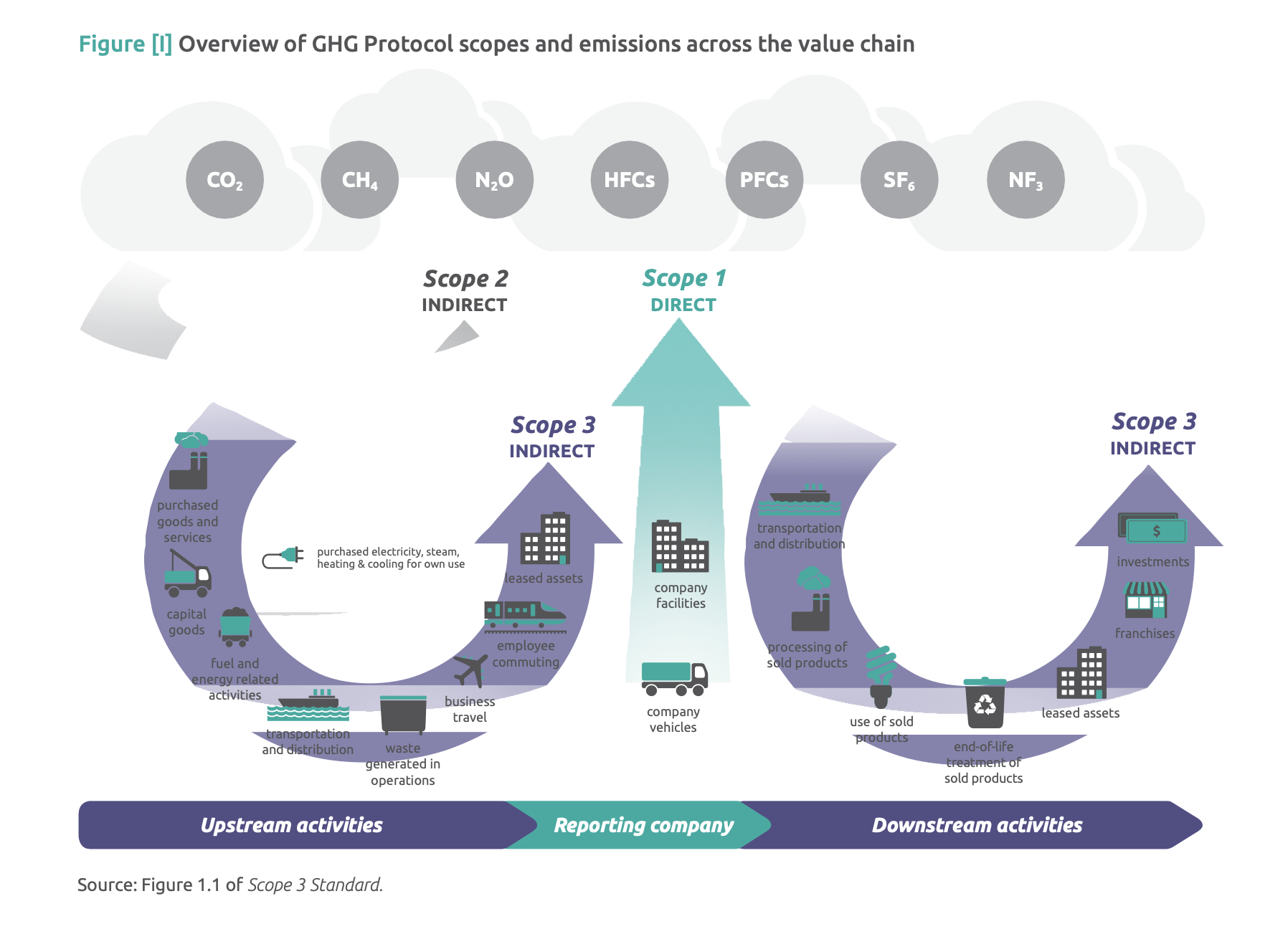 Source: https://ghgprotocol.org/sites/default/files/standards/Scope3_Calculation_Guidance_0.pdf
The above outlines the framework used to calculate an organization's carbon footprint.
Why is carbon accounting important?
The significant importance's showcased by carbon accounting are immense and can benefit organizations differently depending on their business structure. However, to abbreviate the list of potential importance's, you'll want to familiarise yourself with the below:
• Improved company overview – Additionally, you get a magnificently detailed overview of an organization's carbon emissions. Having this data constructed through carbon accounting provides analysts with a comprehensive report of their current operations. Therefore, identifying improvements within the business is much more accurate.
• Access to prestigious markets – A substantial number of governments have tied businesses' carbon performance to their public procurement processes. In short, this means that companies with low-carbon emissions are only allowed to bid for work.
• PR opportunities – Climate change isn't going to miraculously disappear from our lives, meaning it's a remarkable PR opportunity for the organization. Businesses that showcase their concerns for global warming and implement carbon-related decision-making to reduce their environmental impact have special favoritism with the public. According to recent reports posted by Unilever, their more sustainable product line that follows these practices is "responsible" for 75% of their current growth. The importance of carbon accounting is abundant. However, the above outlines the primary advantages offered to organizations that undergo this type of reporting system.
"Do good in what you are good at."
This is the motto summarizing our sustainability roadmap. For us, it is not enough to change our habits at the office and our daily work life. Instead, we believe our leverage lies within goal number 9 of the United Nations Sustainable Development Goals: "Industry, Innovation, and Infrastructure".
The question driving us is, "How can we be of use for all of us in our core business?"
One way to do this is by enabling customers who are also working significantly to reduce their carbon footprint or developing solutions to help different industries operate more efficiently through our software.
We are proud to say that even two of our customers, Decathlon and Biocoop, are the two highest-ranked companies in the French Observatoire des Valeurs
Éthiques (L'OVE), which aims to measure companies willingness to be active in sustainable development.
Read the full article here (in French):
https://www.e-marketing.fr/Thematique/marques-1296/etude- barom%c3%a8tre-2252/Infographies/Quelles-sont-entreprises-plus- ethiques-367652.htm?
&utm_source=lessentiel_17_12_2021&utm_medium=email&utm_campaign=newsle tter
Closing
You may wonder why a software company like DALIM SOFTWARE reports about topics like carbon accounting.
We believe that data is a significant environmental pressure being placed on the world today. And as emissions from massive data centers skyrocket along with energy consumption while power generation is in transition, we defend the position that software production must be green by design. In 2014, our organization made its first significant move, ensuring that our HQ operations are supplied by 100% renewable energy sources. Hydroelectric power is the only source of electricity we tap into to develop, produce and store the software we develop and market in our centrally located offices in Europe.
Stay tuned for the next parts covering why carbon accounting is important, its benefits and inconveniences as well as best practices from different industries.