In-Person at
The Print & Digital Convention 2021
Held on October 20 & 21st, it is fair to call The Print & Digital Convention 2021 in Düsseldorf the first in-person omnichannel marketing event in Germany in 18 months. At last, interacting with people and speak pain points and solutions live and in person! We do believe since decades that print and digital content production share a bright common future.
It was for our partner GAFICON GmbH and us the perfect opportunity to connect with top-of-the-line marketeers and introduce more people to our signature DALIM ES6 software, to optimise content production and better manage digital assets.
What is the Print & Digital Convention in Düsseldorf?
The Print & Digital Convention focuses on omnichannel marketing and forward-thinking communication. The event features an exhibition, lectures, and a workshop programme demonstrating innovative technologies and solutions for the field.
The Convention uses theme worlds to ensure relevant content for each participant. These theme worlds focus on everyday applications for the innovations for marketers along the customer journey. The Print & Digital Convention advertises how these theme worlds make for a better convention.
It Is All About the Approval Cycle!
At The Print & Digital Convention 2021, we focused on how our solutions help build a brighter future for digital and print marketing. In particular, the digital asset management in our ES6 software and the ES6 Online-Approval system offered exactly what attendees were looking for.
The ES6 Online-Approval system offers a certified collaboration and annotation tool. As many companies rely on larger teams to accomplish their marketing goals, the seamless system helps ensure every idea is heard, no matter where the team member is. In addition, the system operates from any web browser.
ES6 offers a comprehensive management system for the entire content production cycle. Not only can users store and categorize their assets, but they can also use the ES6 project management tools, so all the relevant information for a task is in the same location. The integrated nature of various systems is often a time-saver within companies.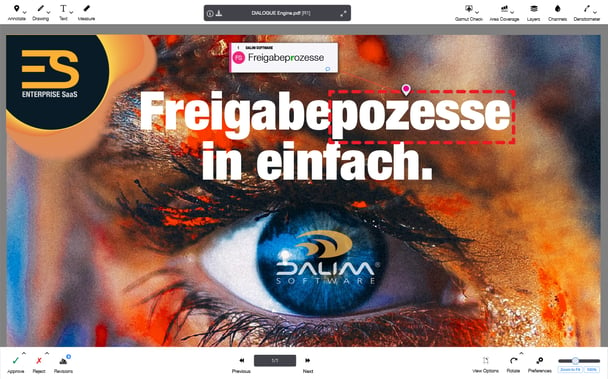 What's Happening Next – WWTM 21 It's time to Link Up
We're so excited to share the good news with you: The World Wide Technology Meeting 2021 - WWTM 21 - will be taking place from the 6th to the 10th of December 2021.
Started 2007, the World Wide Technology Meeting has set milestones in developing our solutions and creating market standards for the market of media & communication media.
WWTM is an invitation-only event for selected partners and clients in early December. The event focuses on market standards for the media & communication industry and features the more relevant news with keynote and workshop sessions.
WWTM 2021 will provide both physical and digital ways to participate. Either on-site in Strasbourg, France and Kehl, Germany, or virtual via our live stream, chat and remote meetings for your convenience.
If you would like to learn more about WWTM 2021 click here.
See you soon!
The Print & Digital Convention 2021 in Düsseldorf was fantastic. Our team as well as GAFICON enjoyed presenting our digital asset solutions in person for the first time in Germany since the COVID-19 pandemic began. The team is also looking forward to collaborating with participants at our next event, WWTM 2021.